Repair diary Sinclair C5 - Page 14:
Wednesday, 06. of January 2010:
Front wheel rim made of steel
During the last weekend I took a table leg and built it into the C5 as a supporting column for the wind deflector.
This shall stop the rattling and chattering during driving at every ground unevennesses.
Today I assembled the chain and the chain tensioner again. As a joyful side effect from the
do-it-yourself bevel
the chain doesn't scratch the body anymore.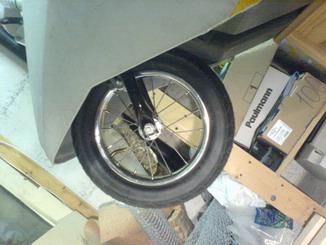 During the last test drive I noticed the smell of charred plastic when braking. This is due to the front wheel rim of the C5 made of plastic.
Since I had to adjust the front wheel brake anyway and there was a steely front wheel rim left over from the Puky childrens bike I replaced the old rim with this.
Saturday, 01. of May 2010:
Make it street legal
In original state the C5 simply has a button to activate the motor. No matter if you are pedaling or not and independent from speed.
In this condition it is liable to registration and insurance deductions (at least in Germany).
But with a few modifications you can turn it into a street legal electric bike.
The
EU guide line 2002/24/EG
mentions the equirements:
max. 250W permanent motor power
motor support only while pedaling
no motor support when driving faster than 25km/h (about 16mph)
And since the C5 is definetly quite exotic on todays roads it may not only attract pedestrians and drivers but also traffic policemen. Therefore you better should be on the safe side of legality.
So we need a device to meassure current speed and if you are pedaling and to disable the motor button if necessary.
Then it is not far to an complete tachometer: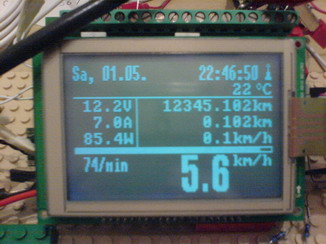 This is my tachometer prototype. At present it can:
meassure pedaling frequency
meassure current speed
disable/enable the motor switch
show overall distance
show trip distance
show average trip speed
show max. spped of trip
show environment temperature
radio controlled clock
show battery voltage, motor current and power
---
---
Repair diary: table of contents