2017-01-28
Description
The idea
Children love funny colorful mobile games; and as a little amusement during boredom or during long car journeys this can be quite a nice activity.
If only there wasn't the annoying advertisements all the time. And those intrusive in-app purchases, without which you hardly can progress in some games. In short: unfortunately most mobile games today are so unbearably designed for commerce that you don't want to expose your offspring to this bullshit anymore.
That's why I thought about developing a game for the kids myself. After all, how difficult can that be?😉
The result is the
Eierschleuder
slingshot game: you stretch a slingshot with your finger and let it go to catapult eggs onto little yellow buddies, whereby various obstacles in the levels have to be destroyed or avoided. Basically a bit like the well-known Angry Birds.
Screenshots
A picture is worth a thousand words, so first some screenshots: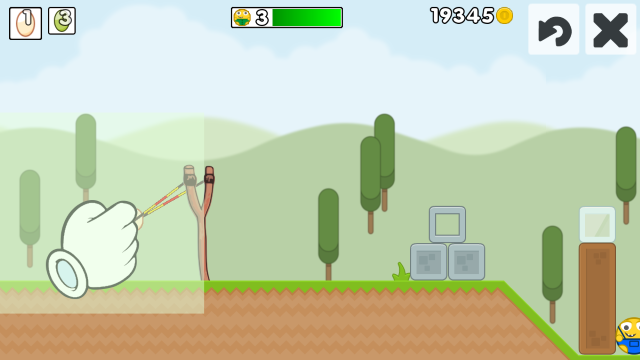 Features
Three worlds with different characteristics ("Hügelland" - hill country, "Wüste" - desert, "Weltraum" - space) and each with 17 different unlockable levels
Additional randomly generated levels so the game never gets boring
Projectiles with special properties:

chicken egg
rotten egg (causes a stinky gas cloud)
magnet egg (attracts everything around it)
bomb egg (explodes)
quake egg (causes structures to shake and to collapse)
ostrich egg (heavy and powerful)
laser egg (shoots beams around)
gravitation egg (causes a black hole in space)
destroyer egg (fires an all-destroying beam)

Various enemies to shoot at
Destructible environment made of wood, glass, stone and metal elements
Mighty power-ups, funny pirate cannons, violent explosions, wild sandstorms, aliens, dangerous lasers, ... in short: everything a good game needs ;-)
Development
If you want to develop a game, you need a development environment and if you want to get results quickly, it is best to use a tool that is already predestined for game development. That's how I finally ended up with
Clickteam Fusion
, which I know since 1994 😄 when it was still called Klick & Play, and which now also offers export options as an Android app.

Developing a game with Fusion is completely different than with "conventional" programming. Instead of typing lines of code, the program logic is simply linked by drag & drop - analogously, for example,
"If the health of the enemy reaches 0, then destroy the enemy"
.
Also, you don't have to tinker with a motion engine yourself, but simply assign a motion concept to objects (is subject to gravity, bounces like a ball, follows a path, etc.).
Of course, this makes things a lot easier and enables a way of working in which you can gradually design and constantly improve your game concept.
In this way, this gradually formed from a proof-of-concept to a fully-fledged mobile game. Although I didn't work on it continuously, but over several months.
License and notices
The Eierschleuder game is licensed under
CC BY-NC-SA 3.0
.
The game
should be able to run from Android 4.4, but a more current system like Android 8.1 or higher is preferable.
does not require any smartphone permissions.
does not require an internet connection to play.
contains no advertising.
does not contain user tracking.
is offered free of charge. It also doesn't contain any in-app purchases.
is only available in German at the moment (although the language doesn't matter much to play it).
Provided "as is" and without guarantee.
Download
Download Eierschleuder Android app:
slingshot.apk
(ca. 32 MB)
(You might have to configure your phone settings to allow installation of apps from downloaded files before.)
Further images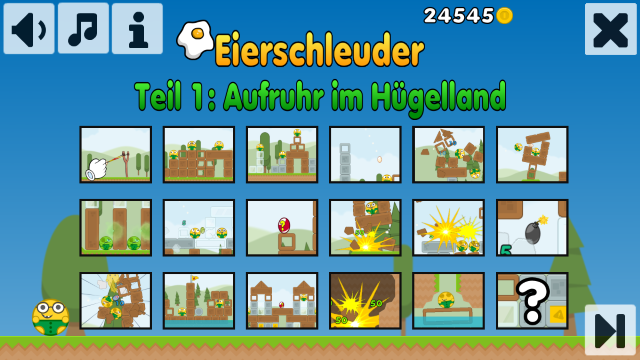 Updates / changelog
2022-06-03 - V 1.0.1.0
Highscore for each level added
Inicator added which shows where the flying egg is in case it is outside of the visible screen
2022-06-05 - V 1.0.1.1
Fixed a bug related to saving the highscore values